HYDRAULIC SCISSOR LIFT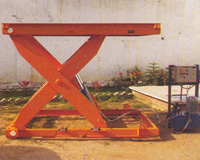 Hydraulic Scissor Lift
Lifting platforms are comparatively simple and versatile devices ti bridge height differences from few centimeters to several meters. Heavy duty rugged construction with pipe burst safety valves are a standard feature.

We manufacture heavy-duty electro hydraulic scissor lifts with capacities of 20 Tons and platform sizes of 10 mtrs. by 4 mtrs. all lift tables are designed and constructed for heavy-duty applications under the toughest working conditions, offering years of trouble-free operation.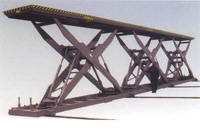 Material Goods Lift
We manufacture electric material/ goods lifts in addition to the hydraulic scissor lifts.